SchlossKonzert

in Salzburg / abgesagt !!!
wo:
Marmorsaal / Schloss Mirabell in Salzburg
Programm
MENDELSSOHN: Streichquartett a-Moll op. 13
MOZART: Streichquartett G-Dur KV 387
(Programmänderungen vorbehalten)
Quartetto Nero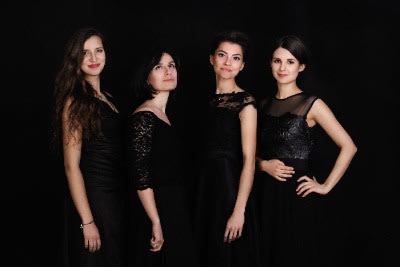 The young and dynamic Polish string quartet is producing its unique and intriguing sound by playing on original period instruments (or their copies) as well as using gut strings and special bows, appropriate for the music of different eras. The ensemble is dedicated to exploring and searching for the authentic sound of music written in baroque, classical and early romantic times; not only by using characteristic instruments of those eras, but also through historically informed interpretation of the pieces. What has a very special place in Quartetto Nero's repertoire is Polish music from these periods, rarely performed nowadays. The idea of the group is also to bring the audience closer to the history of a string quartet as a chamber music ensemble.

Quartetto Nero is the winner of the 1st and Special prize in the Early Music Ensemble Competition in Poznan (Poland) and also a finalist of an international competition XVIII. Biaggio-Marini Wettbewerb in Neuburg in Germany (2017). The ensemble already has a very vibrant concert schedule, performing in Poland and abroad. In October 2017 the very first concert tour of Quartetto Nero took place in the United Kingdom. In 2018 the quartet took part in couple of precious international early music festivals. The ensemble performed at the International Early Music Festival ECOS in Spain as a resident ensemble and two times at the International Early Music Festival in Utrecht (Netherlands) as a part of the Fringe concert series.

The members of the quartet are graduates of the Academy of Music in Krakow (Poland), Mozarteum University in Salzburg (Austria) and Conservatory of Music G. B. Martini in Bologna (Italy). The ensemble was established in 2015 in Krakow (Poland) and, since the very beginning, has been tutored by Prof. Sirkka-Liisa Kaakinen-Pilch at the Academy of Music in Krakow. The ensemble has also participated in masterclasses with Prof. Manfredo Kraemer (Escola Superior de Música de Catalunya, Barcelona, Spain).
Ticket-Kategorien
Der Veranstaltungsort
Der prächtig mit Stuck ausgestattete barocke Marmorsaal von Schloss Mirabell gilt als einer der schönsten und historisch bedeutendsten Konzertsäle Salzburgs und der Welt. Einst hatte hier die Familie Mozart für die Salzburger Erzbischöfe musiziert.